What's New
Key New Features
Windows Vista support and Office 2007 integration

PDF2Office Standard is fully compliant with Windows Vista and integrates completely with the Office 2007 interface via the PDF2Office ribbon.

PDF2Office Desktop Server

PDF2Office Standard is now based on a client-server architecture. PDF2Office Desktop Server performs the conversions, insulating PDF2Office and Microsoft Office applications from the conversion process.

Enhanced Font Substitution mechanism

The Font Substitution mechanism has been enhanced so that a different substitution font can be specified for every font that couldn't be matched against the installed fonts in the system.

Image Specification and Resolution DPI settings

You can now specify the image conversion type when converting a PDF file to Word or PowerPoint format. Additionally, the resolution of images being converted can be specified.

Enhanced Retain Layout mode

The Retain Layout conversion has been enhanced where text box/text frame generation has been dramatically reduced wherever possible.

PDF Reconstruction v4.0

PDF2Office Standard now includes the latest PDF Reconstruction v4.0 engine offering dramatic enhancements when converting PDF documents, which includes enhanced table recognition and processing, graphics processing, complex layout and PDF data recognition. Gradients in PDF files are now processed and converted. Finally, limited clipping path support has been introduced for lines and rectangles.

Enhanced Performance and Conversion Speed

Conversions are now up to 70% faster and utilize less memory then before.

Unicode Savvy

PDF2Office Standard is now Unicode compliant. Unicode file names are now recognized. Additionally, file names in Japanese, Chinese Korean languages display in the correct encoding/languages.
Windows Integration
PDF2Office Personal provides pervasive integration with Windows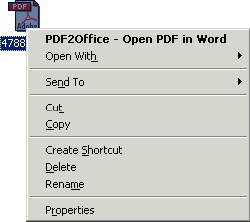 Simply right-click on a PDF document on the desktop and have it open in Microsoft® Word.